Yesterday was the day I've been waiting for since November. Back in November we picked up a few 60lbs feeder pigs to raise for their porky goodness. Yesterday we picked up our perfectly cut, portioned and wrapped pork from River's Edge Market in Jefferson.
This is the second year we have raised a few pigs. We keep one for us, we raise one for the farmer who gives us the pigs and we sell the extra pig to friends of ours. Last year after we raised 4 pigs through a very cold winter, I swore I would never do pigs again. This year I decided that maybe it would be ok to have pigs if we only had 3. After raising 3 pigs over a mild winter I have decided that my original thought of never raising pigs again was the correct train of thought. While I really, really like pork, I do not like raising pigs. I wrote myself a little list of why I won't raise pigs again, I will revisit this list next fall when I start thinking maybe pigs wouldn't be so bad. In the mean time I thought I would share it with you/
Top 10 reasons I will stick to dairy farming and leave pig farmers to the whole bacon farming thing.
1. We have dairy cows. Dairy cows take up a very large amount of our time. I also already have chickens and horses. Adding a new species of animal adds more chores. I don't need more chores.
2. The area we have available for pigs is not set up for pigs. Which means that the skid loader doesn't fit in this building. Which means that I have to shovel the pig's pen out by hand. This job sucks!
3. Pigs like to play with things. Pigs really like to play with their water bucket and make slop. When water from a pig's water bucket hits pig poop it expands by about 10,000 times. Which means that you have to clean the pig pen by hand a lot more often.
4. Pigs bite. I don't think that these pigs were in any means vicious but they like to see what things taste like. Their teeth are sharp. I don't care for pig bites.
5. It costs a lot of money to feed pigs. Pigs can't just live off the leftovers from our family. Because we use cotton seed in our feed ration for the cows and pigs shouldn't get cotton seed, feeding them leftover cow feed is not an option. Pigs need special vitamins and minerals too so we bought a special pig feed for them. We also bought out of date bread and sweets from the local Gardner Bakery Store to try and keep feed costs down.
6. Pigs smell bad. Trust me I know about smelly things, I have dairy cows!
7. Pigs like to dump their water buckets. Yes I know I said this already but it really ticks me off when they do it!
8. It is cheaper to buy pork from the store than it is to grow your own and that's without factoring in the extra time it takes to do pig chores.
9. Pigs can make a noise louder than anything else in the history of the world, ever. They make this noise when they are upset at you. Pigs seem to get upset easily.
10. Loading pigs onto the trailer to take them to the butcher at 6am in the morning may be the leading cause of divorce for farm couples who are not morning people and do not work well together. Hubs and I fall into that category.
So there you have it, 10 reason to not do pigs again next year. But pigs aren't all bad…. A freezer full of pork makes me smile!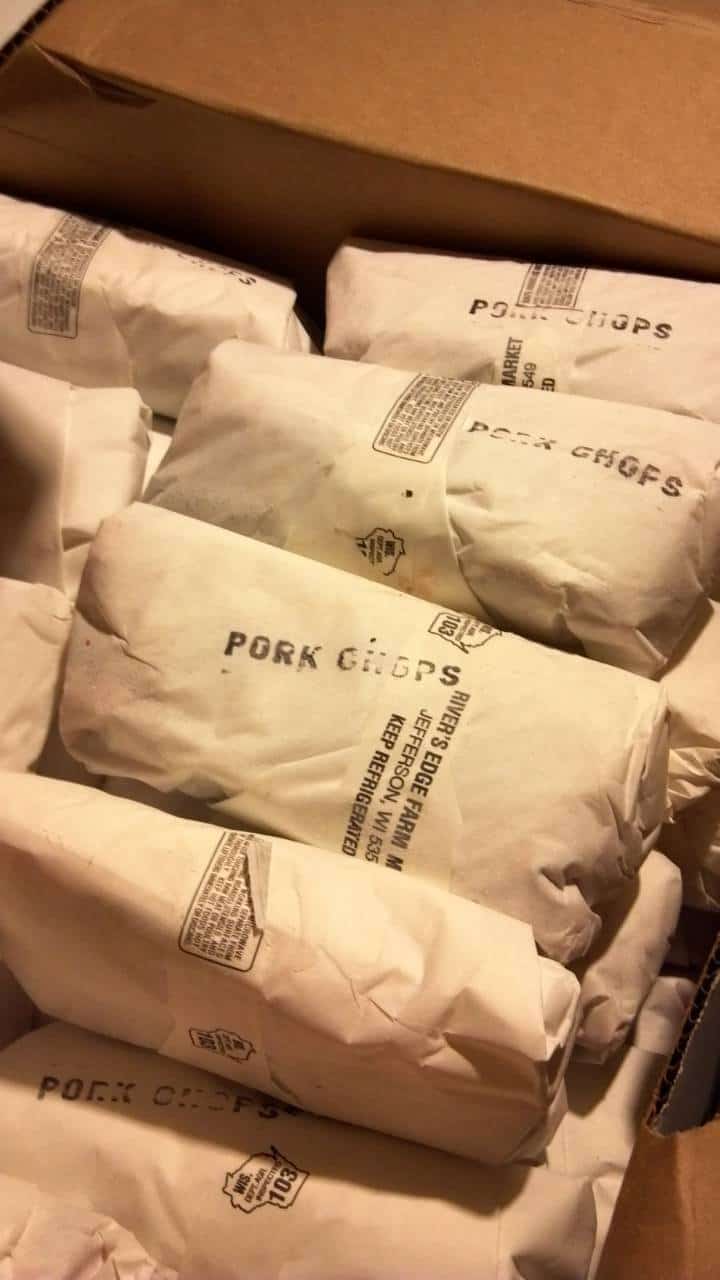 So now that I have all of this awesome Pork hanging out in the freezer, I will be making my favorite pork recipe soon and I thought I would share it with you!
Pork Medallions with Capers and Olives
1 pound pork tenderloin, trimmed
1/2 teaspoon salt
1/2 teaspoon black pepper
1/4 cup all-purpose flour
1 tablespoon olive oil, divided
1/2 cup dry white wine
1/2 cup fat-free, less-sodium chicken broth
1/2 cup coarsely chopped pitted kalamata olives
2 tablespoons capers
2 tablespoons chopped fresh flat-leaf parsley
Cut pork crosswise into 8 pieces. Place each pork piece between 2 sheets of heavy-duty plastic wrap, and pound to 1/4-inch thickness using a meat mallet or rolling pin. Sprinkle both sides of the pork with salt and pepper. Place the flour in a shallow bowl. Dredge pork in flour, turning to coat; shake off the excess flour. Heat 1 1/2 teaspoons olive oil in a nonstick skillet over medium-high heat. Add half of pork, and cook 2 minutes on each side or until done. Remove pork mixture from pan, and keep warm. Repeat procedure with the remaining oil and pork. Return pork to pan. Add wine and broth; bring to a boil. Stir in olives and capers; cook 4 minutes. Sprinkle with parsley.
Related articles