Peanut butter and chocolate meet the most moist and delicious banana bread recipe you have ever seen.
I apologize now if you are one of those people that hates the word moist… crap I did it again… Moving on! A not so secret dairy delicious ingredient makes this recipe one you'll love because it's super MOIST! (Unless you're Hubs, who has informed me that he doesn't like peanut butter, chocolate and bananas together. But what does he know anyways?) If you have a person lacking the ability to appreciate the awesomeness that is sweet and salty banana goodness in this recipe in your home, you can leave out the peanut butter and chocolate and still have a damn fine banana bread recipe. You can also consider kicking that person out of your life, I won't judge you for it.
I don't have milk on the ingredient list but you're going to want to make sure you have a gallon or two in the fridge. This tasty treat goes best with a tall glass of cold milk!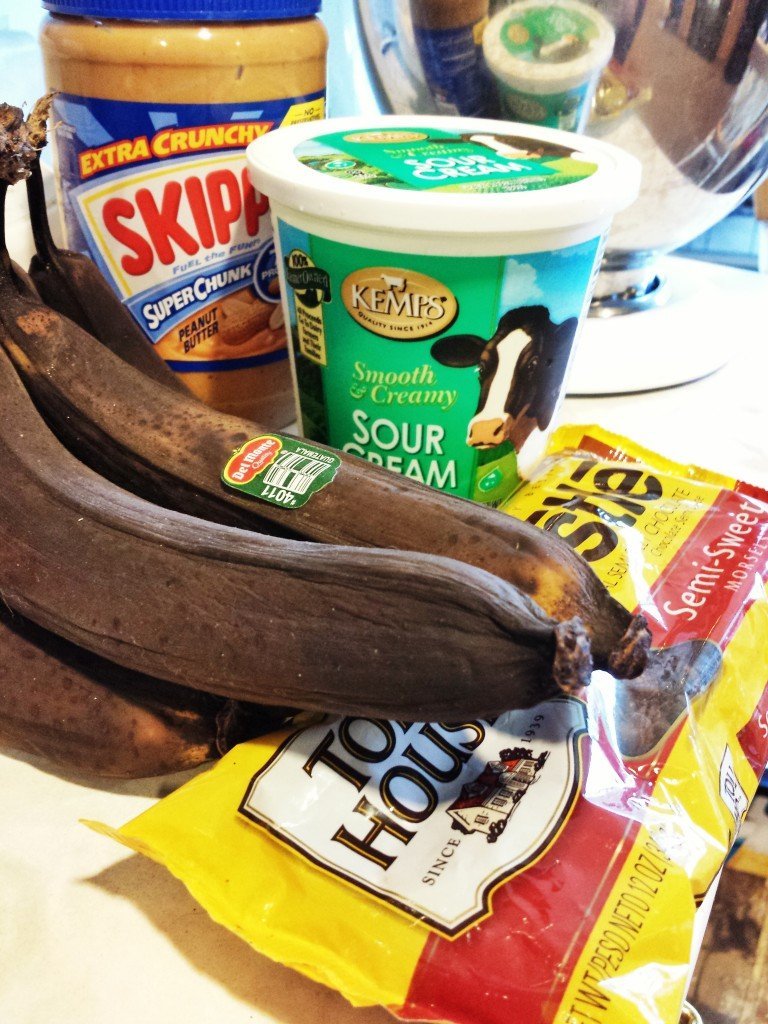 Peanut Butter & Chocolate Banana Bread.
Makes 4 loaves.
3/4 cup butter, softened.
2 1/2 cups white sugar
3 eggs
6 very ripe bananas, mashed
1 1/4 cups sour cream
2 teaspoons vanilla extract
2 teaspoons ground cinnamon
1/2 teaspoon salt
3 teaspoons baking soda
4 1/2 cups all-purpose flour
1 cup crunchy peanut butter
1 cup chocolate chips
Preheat oven to 325 degrees F. Lightly butter four regular size loaf pans.
In a large bowl, cream butter and sugar. Mix in eggs, mashed bananas, sour cream, vanilla and cinnamon. Mix in salt, baking soda and flour. Fold in chocolate chips. In a microwave safe bowl, heat the peanut butter until it's softened.
Divide half of the batter between the four bread pans. Spread batter to cover bottom of the ban. Pour 1/4 cup of peanut butter over batter in each pan and top with remaining batter.
Bake for 1 hour. Test loaves with a toothpick for doneness. Allow to cool slightly. Serve with a giant glass of milk and a smear of butter. Be happy with your delicious life choices.